Woodland ...

Forest school is an inspirational process, that offers ALL learners regular opportunities to achieve and develop confidence and self esteem through hands on learning experiences in a woodland or natural environment.

Each day a group of children are taken into the woodland, this week the children have been learning all about bugs, this involved going on lots of bug hunts ...
Winnie's Broken Broomstick: 25th October 2017
Today in Forest School the children discovered Winnie's broken broomstick. The children thought of lots of ideas of how we could fix Winnie's broomstick and make it even better than it was before. They made it stronger by adding a larger stick with tape and then made a potion using objects they could find from around Forest School. Each child found a magic wand and thought of their own spells to make Winnie's broomstick magnificent again. The spells worked and the children were very excited to tell Winnie the good news. Together they tested the broomstick by flying around Forest School. The children decided to tie a ribbon around the broomstick as a nice surprise for Winnie. They were very proud of what they had achieved and couldn't wait to tell all the adults at Nursery.
'The Snail' by Henri Matisse: 8th November 2017
At the beginning of this week we read the story 'Snail Trail' by Ruth Brown. Following on from this we looked at 'The Snail' picture by the artist Henri Matisse. Today in Forest School we chose to create our own snail picture on a larger scale. First of all we collected lots of natural objects we could find around Forest School. We found lots of twigs, pine cones, stones and lots of different colours and sizes of leaves. We then each placed the objects on a large mat creating our own pattern to represent the shell of a snail. We were very pleased with what we had achieved as a team!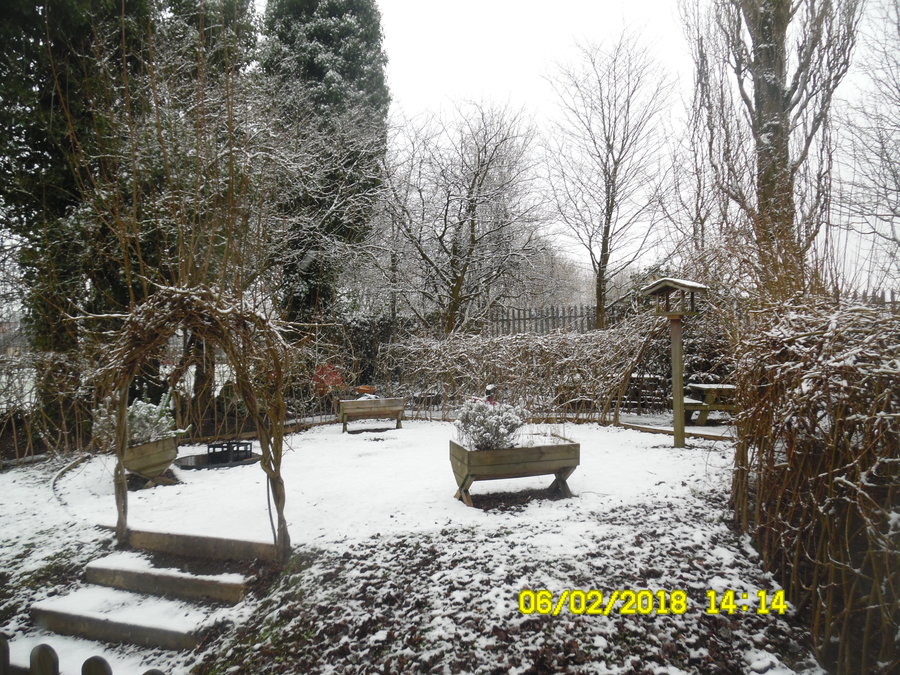 Autumn Time ... (02/11/18)
Today in Forest school we made Autumn collages, we did this by collecting leaves, twigs, berries and pine cones ...
Making bird feeders ... (w/c 14/01/19)
This week in forest school we have been focusing on birds in the winter. We talked about cold weather and how the birds may find it difficult to find food, therefore we decided to make bird feeders and we hung them up in forest school.
Making bird nests ... (w/c 21/01/19)
This week in forest school we are continuing to think about birds, we collected leaves and twigs to make bird nests.
Birds ... (w/c 28/01/19)
This week in forest school we are carrying on with the bird theme after making birds nests and going on lots of bird hunts we are making our own birds using clay, twigs and feathers ...
Woodland animals ... (w/c 11/02/19)
This week in forest school we have been thinking about animals that live in the forest, we found out more information about the animals natural habitats and we had a go at re- creating them ...
Den making ... (w/c 25/02/19)
Following on from creating habitats for woodland animals, this week we are making dens for ourselves ...
Making a campfire ... (12-14th March)
This week in forest school we have been learning how to make a campfire, we then toasted marshmellows, they tasted yummy!
Spring Time ... (25th-5th March)
For the next couple of weeks we are thinking about Spring, We have been busy planting seeds, hopefully they will grow into vegetables and beautiful flowers!
Having fun in the forest ... (w/c 7/05/19)
This week we have been working together to share our thoughts and ideas to make forest school a much more exciting place, after lots of discussions we decided that a swing would be a brilliant idea, so we put our team working skills to the test ...
Tadpoles ... (w/c 13/05/19)
This week we have been learning all about the life cycle of a frog. Jess brought in some tadpoles for us to have a look at. We are all excited to learn lots about them ...